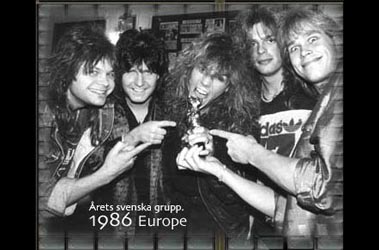 During the rest of the 80's King Coffee played at several discos, parties and concerts in Eskilstuna and surrounding hideouts and in 1986 the band was close to win the, by Aftonbladet, newly founded Rock Band Contest (later to be named Rockbjörnen), beaten by Europe in the final.
Later research by TV4 "Kalla Fakta" has revealed that the jury deliberately was miscalculating the votes and that the true winner should have been King Coffee. - "Shit happens!" was Chris comment in the documentary, when it was shown in Swedish television in 1997.
When the band members, in the late 80's, were scattered all over the world due to need for some periodic income, the band and the dreams were put on a dusty shelf in some dark cupboard somewhere in Neverland...
...temporarily...